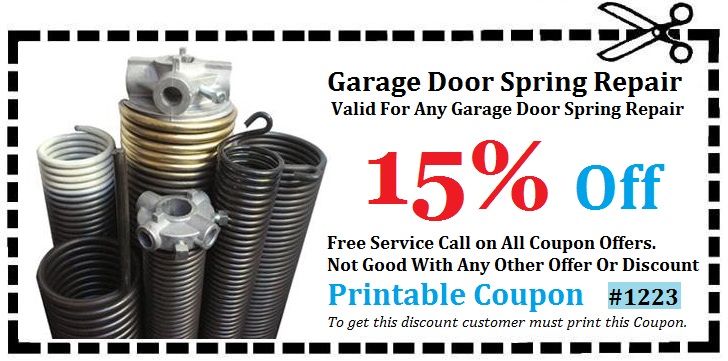 Superior Garage Doors is one stop shop for all your garage door spring repair. We carry all sizes of torsion and extension springs, and also fix Wayne-Dalton spring system. All of our work done by our certified technicians, not some subcontractors with no experience like all the other company's. All of our spring repairs comes with a Life Time warranty, if for some reason the spring breaks we come and fix it for free. So if you looking for the best price and the most professional company to repair your garage door spring look no further, Call Superior Garage Doors and we will be happy to help right away. You can always reach us 24/7 at 678-444-4123 or contact us through the form on the right of your screen.
Here are some important points about garage door spring repair.
* Garage door springs rated by estimated cycles, each cycle is when your garage door go up or down. While most of our competitors install garage door springs with 5000-10,000 cycles, superior garage doors install springs with 10,000-50,000 cycles.
* At Superior Garage Doors we always carry 99% of residential springs on our truck, so we can fix the problem with no time. Don't let some other company's install you the wrong springs just because they don't have the right springs in stock, and watch out it happens pretty often.
* When replacing broken garage door spring we at Superior Garage Doors recommend to replace both spring at the same time. The reason for that is that usually when one garage door spring break it wont take too long to the second spring to break, so instead of getting stuck with non operating garage door the best way to go is replacing both springs to ensure door safety and correct operation.
* With every spring repair or replacement Superior Garage door provide 28 garage door safety point check. we will make sure everything is in good condition on your garage door including cables, hinges rollers and more. We will lubricate all components to ensure door safety.
* How much spring repair cost? This is the most common question we get. Unfortunately there is no way to give a quote over the phone for a spring repair, the size of the spring depends on the type of door, size weight and what kind of spring needed. We recommend that one of our certified technicians will come to your home and measure the spring so we can provide an accurate estimate, and remember there is no service charge with any repair.

Garage door with a broken spring, or the wrong strength spring, can fall. Because the effective weight of the door increases as the garage door sections transfer from the horizontal to vertical door tracks, a falling garage door accelerates rapidly. A free falling garage door can cause serious injury or death.
Extension spring systems should always be restrained by a safety cable that runs through the middle of the spring, tying off to a solid point at the rear and front of the horizontal door track. Extension springs represent a hazard to bystanders when a spring, pulley, or cable breaks under tension. Metal parts from extension spring systems can suddenly be launched.
We repair all makes and models.  Contact us for garage door spring repair today.  Call (678) 444-4123